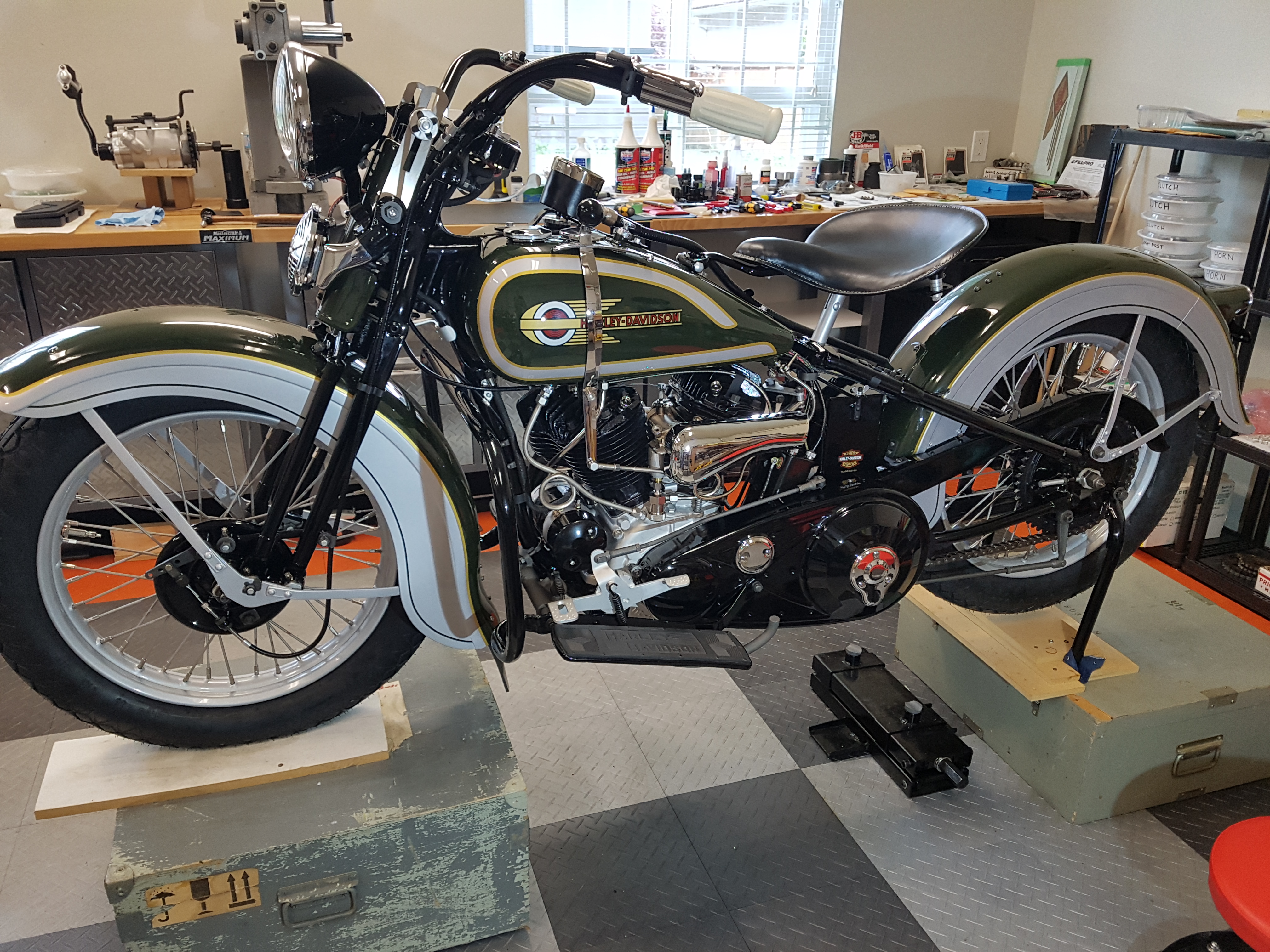 View Higher Resolution Photos Here
Chapter Four (one to three below)
Well after 3.5 years this 36 VLH restoration is complete. The great majority of the time spent was on waiting for specialized trades to get my work done. Painting of the tanks and fenders held me up a year but in the end they did a fine job. Other than flywheel truing, spoke truing, cylinder boring and valve seats I did the rest myself. Exceptions to that were the restoration of the 32E generator by Perry Ruiter and the M41L carb by Kevin Labaso of Rust Never Sleeps. I have endeavored to produce a very accurate VLH in terms of all parts and finishes being accurate plus the assemblies new in all mechanical aspects and quality of finishes. I am no slouch mechanically but it is very helpful to have an ace vintage Harley mechanic in your area and on your speed dial for their advise and expertise. Mine was Gary Carpenter of Carp's Cycles in Delta, BC.
The VLH is covered in one year only parts and some one year / one model only parts such as the cylinders and cylinder heads. This makes a VLH tricky, to put it mildly, but satisfying when you get it done. Researching the correct part and finish, scouring ebay and numerous vendors to find them takes a great deal of time and patience. Its a good feeling to secure an essential part. Its a bad feeling to have nearly all the parts except one or two that elude you. Especailly when its a perfect build you want to achieve. I know I didn't sleep comfortably until I had everything I needed. I cant imagine how I'd feel to get this build at the end and have the wrong rear stand etc! This of course is the game of building a high point bike (AMCA judged) You need not go this route but if you want to then secure all the parts as quickly as possible as they are drying up and some of the best vendors are eclipsing into retirement. Best to buy a complete bike and restore it rather than a few main pieces and thinking you'll get the rest along the way. Very possible you will, but getting harder.
One of the best pieces of advise I ever got was someone saying to me "You cant do just one after all you've been through and learned" I took this to heart and bought some more VLs and am well into a 34 VLD and a 30 V. I'll get some pics and info up soon. If ever you have the opportunity to buy up someones stash of unwanted VL parts then be sure to buy it! I had that happen to me and cant tell you how important it was. Some I definitely could use in my builds but also to be able to hold and compare the parts is very helpful for identification and general knowledge. Plus you'll sell what you wont use and get to recoup your investment. Be slow to sell your parts until you are sure you don't need them. You just might do another one and regret selling off parts you'll need. Arg, I did this too often.
For those of you already ace painters / bodywork, welders / machinists you certainly have a big leg up. For the rest of us its important to decide what aspects are worth learning and what are too steep and expensive a learning curve for a few uses. For example anyone can get a blasting cabinet and do the majority of that themselves and this equipment will pay for itself. I spend a great deal of time at the cabinet. A quick tip or two on blasting; I clean all grime, grease, oil and major crap off parts first before they go in the cabinet. I also strip all paint off first. This will make your media go a lot further, will have you bent over the cabinet less time and will extend the life of your gun as well. Fine glass bead at first pass is a tiny ball shaped bead. This is perfect for finish restoration of aluminum cases not only for the resultant look but it also peens the surface closing the pores so to speak and making the case less porous thus assisting in oil penetration through the case and weeping leaks etc. Be sure to cover all bearing races if not removing. Cleaning afterwards is vital and needs to be totally thorough. I remove all studs and races, bushings beforehand. If not, tape them up soundly and stay away from them. Then serious flushing / washing. Second pass bead will have broken the bead (ball), fractured glass, copper slag, aluminum oxide are deeper cleaners and rust, slag removers. For parkerizing prep this is essential as it opens the pores allowing the etching to bite in to the surface. Wear a respirator. Silica is bad stuff.
Parkerizing is well within anyone's ability and again the equipment will easily pay for itself, the results are very satisfying, its safe (but do it outside) or at the bay door at least. Plus parts not sent off are parts not subject to being lost. There are lots of different manufactures of solution. Equipment need not be elaborate. I know of friends that get good results from Grizzly and Brownell. I like a product by Shooter Solutions which you'll find easily by Google. Parkerizing is more about cleaning and preparing the parts. The chemistry and doing it is as simple as boiling an egg.
Personally I look for areas that the dependency on others can be eliminated with a reasonable expenditure that has a chance at recouping and a learning curve that isn't a four year apprenticeship etc. I lace all my wheels and am now getting a good truing stand because I can't wait on others any more and although the first one or two will take a bit to perfect, it will be worth it. With the new modern single part Urethanes, I plan on gearing up and doing my own gloss black finishes as again outlay of capitol for the equipment is easily recouped in one project, assuming you already have a compressor(s). We cant get lacquer in Canada but the Urethanes harden so hard that sanding and polishing are very doable and excellent results are achievable. Or so I tell myself.
Tools may not be the best topic to discuss with me as I am a certifiable toolaholic. I love tools, good tools and specialty tools. I personally don't feel it is possible to correctly restore anything without them. If you want to do engines and transmissions you'll need some specialty tools. I have a lot of them and wouldn't do without them. I enjoy measuring accurately so I have a number of micrometers, calipers, digital bore gauge, snap gauges etc. all are good makes and not cheap but so worth it. Remember good tools and equipment have resale value. You'll never catch me banging loose an odd size nut with a hammer and cold chisel. I will find the appropriate tool or I will have it made. Simply put you have to get good specialty tools to do good work. Imagine a butcher harvesting a side of beef with a butter knife instead of his beloved specialty knives. He might get it done but … well you can visualize!
One restorer said something in an article I read "You're not turning the lugs on an eighteen wheeler" oh well said! Tight yes, over tight no, no, no! So much of the restoration is the preservation of these precious parts and the perfect finish on your newly restored or purchased hardware. Cad for example is so easily marred and wrecked. I use very few sockets on finished areas. Most are too rough inside and if you don't watch you can push these down on nicely painted surfaces or cause lock washers to spin thus buggering adjacent surfaces. I use a ton of painters tape to protect adjacent finished areas from a slip and I tape wrenches or nuts where the possibility of marring the surface could happen. For example the large Cad rear axle sleeve nut. I find that the majority of hardware say 9/16″ and under I like to turn with an open end wrench so I can see it and feel it. For this reason I buy wrenches not based on cost or brand name but I want the surface inside the open end where it contacts the nut or bolt to be smooth. I have many expensive brand name wrenches that are rough as hell that never get used for final assembly but work for disassemble etc. My favorite assembly open end wrenches (you need two sets) are black epoxied Stanley Pro. Smooth like glass. The other finished hardware we deal with on HDs is the slot screw. Very important to have excellent screw drivers. Brownell sells a gun makers kit. Johnny Sells book mentions another make as well. These are straight, or sides parallel where they engage the slot rather than tapered. I went another route but I have at least 20 different screw drivers I use according to the screw. Remember the 18 wheeler lug nut warning. I also employ other surface saving techniques. I have one of the Precision Tools die sets which allow me to make awesome plastic or paper washers that can go under the head of bolts and screws that contact paint. these are not noticeable and save the paint from both spinning off or mushrooming (volcano if you like) from pressure. Another little tip is I will put a very small amount of grease under a bolt head that contacts paint etc as this helps to slide it against the paint surface rather than bite into it. Example would be on the head bolts under the flat washers against the nice new black high heat ceramic paint. As you well know these bolt threads are previously checked and made perfect, the holes in the cylinder chased and perfect and the bolt threads lubricated (bit of grease or assembly lube) so they cant grab before reaching an accurate torque setting. Thread chasing taps and dies are another essential set of tools. Remember a thread chaser is simply a die with nut pattern outside edge so as to hold with a wrench etc. Buy the thread chaser where possible but don't pay a premium for it over a die. Just get the appropriate die wrench.
I have quiet a number of specialty tools and things I use that are not expensive. I will get a picture inserted here as soon as possible.
I do hope you will take a look at the high resolution pictures and enjoy them. Even better I hope they will help you with your projects.
Chapter Three (one & two below)
Why a VL?
More to the point why invest in and / or restore a VL series Harley Davidson? I'm glad you asked for my humble and somewhat biased opinion. Setting aside all the great reasons to have and ride an old bike, I wish to address this from and investor / restorer point of view. To me the VL years are some of the most important years in Harley history. First off the VLs were within the years that the original 4 founders were at the plant everyday. They oversaw these bikes and William Harley's engineering are all over these machines. I feel that is important. Next the VL manufactured 1930 to 1936 inclusive were made and marketed right through the great depression years. I believe that these machines which sold 6 to 4 over the 45s were instrumental in carrying Harley Davidson through those dreadful years. Not withstanding the fiscal abilities and ingenious marketing of HD, it was these VLs that captured enough imagination of living the motorcycling lifestyle, the allure of the freedom, status and pure desire to have and own, to cause a buyer to lay down what could have been a quarter to a years income for a bike when job security was nil and keeping a roof over your head and food on the table was enough to think about. When a basic Ford that held 6 people sold for less in some of the VL years, these bikes still sold. Why? they were a Harley!, they have incredible masculine lines, that big Vtwin, those 19″ wheels, low, lean, mean looking bike and enough brave new paint schemes to suit any taste. They are nimble, fast, rugged and think about it a 74″ was 1200cc motorcycle in the thirties and the 80″ was 1310cc! You can just imagine that young guy (or girl) standing on the wood floor showroom, eyeing the beautiful 45s then easing over to the the bigger VL and just grinning ear to ear calculating the down payment and what weekly payments might be.
Think about this too. The ever iconic knucklehead came out in 36 with great hopes for the future pinned to the new OHV technology. But Harley were not about to step off the edge of a cliff and were smart enough to keep and market their proven flatheads just in case. The 36 VLH was marketed to come with an array of accessories included in the price. Jiffy stand, ride control, steering damper, stop light switch, front crash guard and the unicorn, the Corbin speedometer with the top speed recording needle. To my knowledge the first time Harley had done this. Another ingenious effort in marketing. Some 36 ELs were returned to the dealer and swapped out for VLs but we all know how the history of the knucklehead played out.
I'm glad Harley, once satisfied the OHV was going to carry their future, curtailed manufacture of the VLs as this has only served to make them more rare today. For some reason the shop manuals etc for the VL years have been lost which would have been great to have. NOS parts are rare as hell, OEM are drying up and even some first class replicated pieces are getting hard to have. This all adds to the allure and the valuation especially if your desire is to create at high point restored VL. Forget about the total loss oil system BS. This is how they were made and enjoyed for many many years and managed tens of thousands of service miles. All part of the history, all part of the fun, all part of why these machines will be an excellent investment. There were only about 44,500 ever made. A drop in the modern day Harley output today of over 25,000 +/- per month. Of the VLs manufactured I would hazard a guess that only 2 – 4% are in any form of restored bike and of that, a fraction restored to a showroom, high point level.
No serious Harley collection can be without a representative of these important historic years. The most collectible in my opinion is the 36 VLH for continuing upward value but any of the VLs are worth having. I personally feel 1930 was an amazing looking year and also historically significant.
In the next few chapters I will try and share some ever expensively obtained tips and info if you care to give one a go. The desire being to steer you away from some of my ever expensively corrected errors and on to some victories instead. I will encourage you with this; the VL community are some of the nicest, most knowledgeable enthusiasts you'll ever meet. I have never met or talked to a single sole that wasn't totally forthcoming with tips, contacts, vendors etc. and I make it a point to share what I've learned as generously. You'll need to become part of this network. You'll need at a minimum the latest version of Steve Slocombe's book found at VL Heaven.com Those of us that love VLs owe Steve a great deal of thanks for his work and study of the VL series of Harleys. An excellent guy to know and talk to. Equally important is to buy Steve's VL parts price list. This is an invaluable tool. You'll spend a lot of time in this. Not for prices as most of it is not available anymore but for a quick reference by part number that the piece you're after is correct for your year VL etc. You will also have to have a Harley Davidson parts book applicable to the year(s) you are working on. Try to get the larger book as its easier to read and see the terrible pictures. After those if you want some excellent cross reference material that can be extrapolated to VL but not necessarily specific to VLs is Johnny Sells book on 45s and Steve Palmers books on big twins etc. Steve Slocombe's book also lists an extensive selection of reference material. You'll need a owner handbook (being reproduced) and there is a new book out that captures all VL shop dope in order. You might have to reach out to Tom Feezer at Replicant Metals to find that. Tom is another must know guy and a excellent vendor. Rat at Harbor Vintage is also another must know vendor. Another for hardware is Tom's NOS, a superb website for ordering as it always has the original part numbers and pictures plus multiple finishes. There you go, a few of the very best you now know. You're ahead by a mile over me when I started.
Now to figure out how to get all the pictures on Flicker again.
Chapter Two (one is below)
On the off chance anyone will ever read this I extend the story of the 36 VLH endeavor. Much has happened with the project and with this restorer. Someone put the seed in my mind that after all this effort you cant do just one! So I started three more. I have to agree this was a good idea as the benefits of all the study one must do really pay off on the next projects. The 36 is almost completed and I am very happy with the fit and finish to date and the mechanical operation of the wheels, brakes, motor, trans and drive train etc. I truly enjoy getting into the measuring, clearances, end floats etc. The thing I found very helpful is to remind myself that these fine bikes were assembled by hand and by the dozens and dozens per day. So by reverse engineering the assembly and reminding myself that no one needed more than a few minutes or seconds to get through a certain assembly, I slow down and consider that until the order of sequence reveals itself.
The first tip I could ever offer is to come to peace with that fact that nothing fits like a greased banana or drops perfectly into place. If it does (and very occasionally it does) its reason to go quickly to the beer fridge and have a mini celebration. In my experience your case of beer consumed this way will last a long long time. Nothing fits! not NOS, not OEM, hell pieces you just took off from the original assembly don't go back on without a this or that. No point in giving up and buying a new one, if you can get it, they don't fit either! Armed with that info life gets more peaceful as you gather more and more tools and apparatus for the necessary chasing, filing, blending, molding and massaging that damn near every single assembly requires. No beating, no pounding or you will be singing the blues. No working around and over fine finishes without protecting them or you will be singing some more. Be very slow to use the red locktite, to final tighten certain nuts, screws etc and be very slow to put the lock washers on anything painted until its really truly the last time. Good to keep notes on anything not final tightened and check them off so you don't wake up at night and take the starter cover off the transmission you just finished to see if you tightened the counter shaft nut! Eh, hem, who would do something like that?
I have a ton more to share and will be back soon with lots more pictures.
Chapter One
For any of you that have taken on a full end to end, top to bottom nut and bolt point bike restoration of any motorcycle, you may get some enjoyment out of reading this. I don't feel I've made it into the secret brotherhood of restorers by any means but have I waded into the waters? Oh yeah. Did I know anything about a VLH beforehand? Nothing. Do I know a little now? Shall I recite the parts list backwards or forwards?
My VL experience starts like many others. A friend had it on the bench, dismantled and lost interest. I thought it would be great to take over and finish where he left off. So I proceeded to pay way too much for the project, shipped it across the country, opened it up, spread it out and then bought and read Steve Slocombe's book. Note to reader: this is not the suggested order.
And so began a multi month dismantle, investigation, discovery and disappointment as I worked through every single piece, screw, nut, washer etc. The majority of my discoveries lead to disappointment in that the part, if present at all, was rarely true VLH. Most moments of true discovery leading to disappointment started with wide eyed and semi silent curses. Then they progressed into wild combative flailing and more recently I just laugh but all were hastily diluted with copious amounts of wine, beer, shine, solvent – anything handy to numb the pain. Yes, I'm kidding. I would never waste good solvent. Suffice to say I have a lot of great parts to sell on EBay one day that are for other VL's.
I have no one to blame but myself for deciding early on that I was going for a correctly restored (cosmetically and mechanically) points bike. I was warned I'd need plenty of patience and money. I have developed the former and have a great deal less of the latter. The other character trait perhaps not to have is anal perfectionism. I have that in a bad way.
Stay tuned, I will update as I go. No more whining I promise. Wine, yes.
Truth be told I'm having a blast, talking to the best in the VL world, meeting amazingly talented experts who will and have left their mark on this restoration and enjoying the small victories as they come.