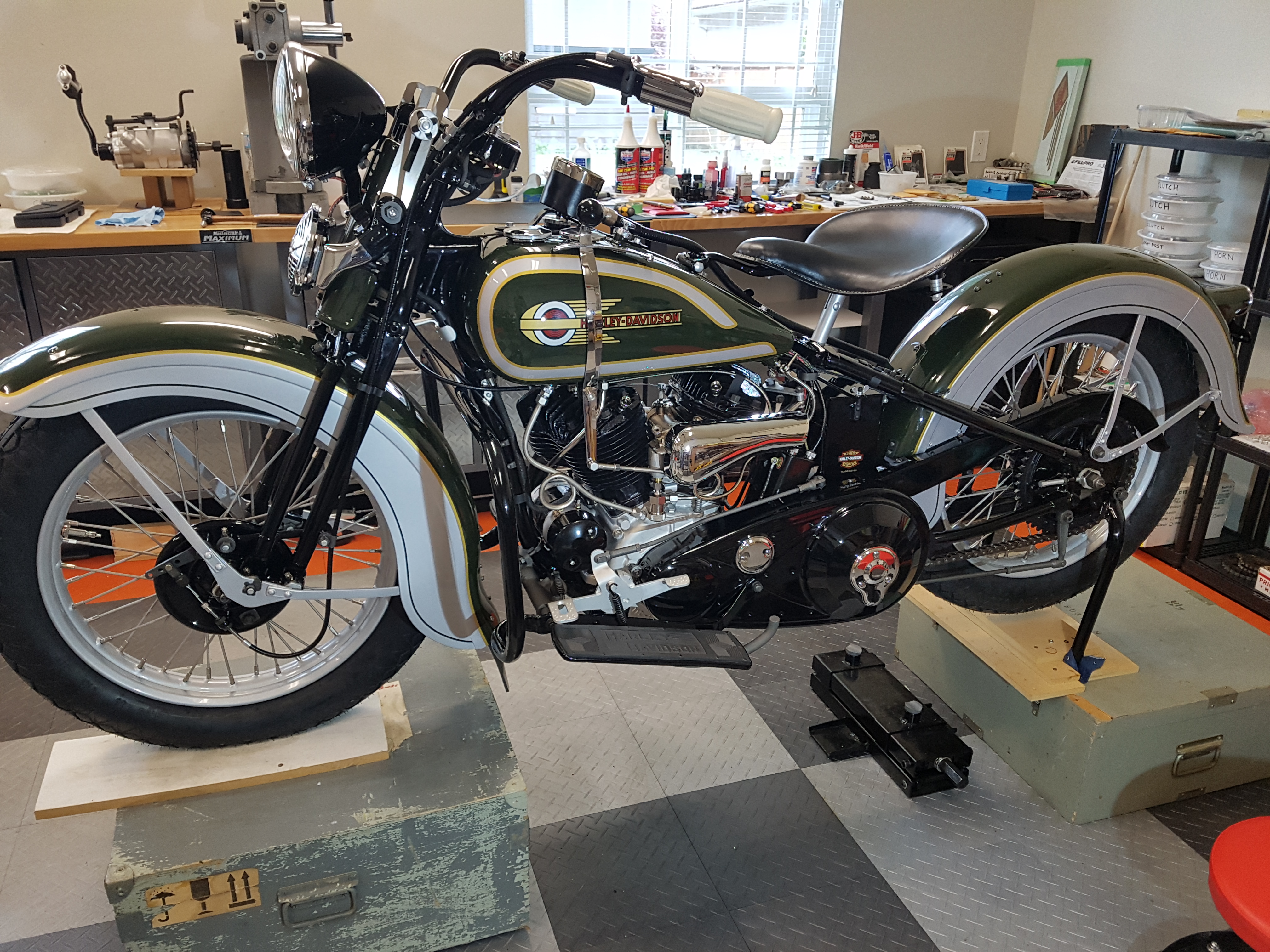 View Higher Resolution Photos Here
Well after 3.5 years this 36 VLH restoration is complete. The great majority of the time spent hunting down the rare and often one year, one model only parts and carefully restoring them. I was waiting for painting of the tanks and fenders for a year but in the end they did a fine job. It was never about rushing to the finish, the journey is what I like and careful exacting work. I had flywheel truing, spoke truing, cylinder boring and valve seats done by others plus the excellent restoration of the 32E generator by Perry Ruiter and the M41L carb by Kevin Labaso of Rust Never Sleeps. The result is a very exacting VLH in terms of all parts and finishes being accurate to a 36 VLH. All of the assemblies are new in all mechanical aspects. All finishes are pristine, correct and beautiful.
The VLH is covered in one year only parts and some one year / one model only parts such as the cylinders and cylinder heads. This makes a VLH tricky, to put it mildly, but satisfying when you get it done. Researching the correct part and finish, scouring ebay and numerous vendors to find them takes a great deal of time and patience. Its a good feeling to secure an essential part. Its a bad feeling to have nearly all the parts except one or two that elude you. Especially when its a perfect build you want to achieve. I know I didn't sleep comfortably until I had everything I needed. I cant imagine how I'd feel to get this build at the end and have the wrong rear stand etc! This of course is the game of building a high point bike (AMCA judged) You need not go this route but if you want to then secure all the parts as quickly as possible as they are drying up and some of the best vendors are eclipsing into retirement. Best to buy a complete bike and restore it rather than a few main pieces and thinking you'll get the rest along the way. Very possible you will, but getting harder.
Tools may not be the best topic to discuss with me as I am a certifiable toolaholic. I love tools, good tools and specialty tools. I personally don't feel it is possible to correctly restore anything without them. If you want to do engines and transmissions you'll need some specialty tools. I have a lot of them and wouldn't do without them. I enjoy measuring accurately so I have a number of micrometers, calipers, digital bore gauge, snap gauges etc. all are good makes and not cheap but so worth it. Remember good tools and equipment have resale value. You'll never catch me banging loose an odd size nut with a hammer and cold chisel. I will find the appropriate tool or I will have it made. Simply put you have to get good specialty tools to do good work. Imagine a butcher harvesting a side of beef with a butter knife instead of his beloved specialty knives. He might get it done but … well you can visualize!
Why a VL?
More to the point why invest in and / or restore a VL series Harley Davidson? I'm glad you asked for my humble and somewhat biased opinion. Setting aside all the great reasons to have and ride an old bike, I wish to address this from and investor / restorer point of view. To me the VL years are some of the most important years in Harley history. First off the VLs were within the years that the original 4 founders were at the plant everyday. They oversaw these bikes and William Harley's engineering are all over these machines. I feel that is important. Next the VL manufactured 1930 to 1936 inclusive were made and marketed right through the great depression years. I believe that these machines which sold 6 to 4 over the 45s were instrumental in carrying Harley Davidson through those dreadful years. Not withstanding the fiscal abilities and ingenious marketing of HD, it was these VLs that captured enough imagination of living the motorcycling lifestyle, the allure of the freedom, status and pure desire to have and own, to cause a buyer to lay down what could have been a quarter to a years income for a bike when job security was nil and keeping a roof over your head and food on the table was enough to think about. When a basic Ford that held 6 people sold for less in some of the VL years, these bikes still sold. Why? they were a Harley!, they have incredible masculine lines, that big Vtwin, those 19″ wheels, low, lean, mean looking bike and enough brave new paint schemes to suit any taste. They are nimble, fast, rugged and think about it a 74″ was 1200cc motorcycle in the thirties and the 80″ was 1310cc! You can just imagine that young guy (or girl) standing on the wood floor showroom, eyeing the beautiful 45s then easing over to the the bigger VL and just grinning ear to ear calculating the down payment and what weekly payments might be.
Think about this too. The ever iconic knucklehead came out in 36 with great hopes for the future pinned to the new OHV technology. But Harley were not about to step off the edge of a cliff and were smart enough to keep and market their proven flatheads just in case. The 36 VLH was marketed to come with an array of accessories included in the price. Jiffy stand, ride control, steering damper, stop light switch, front crash guard and the unicorn, the Corbin speedometer with the top speed recording needle. To my knowledge the first time Harley had done this. Another ingenious effort in marketing. Some 36 ELs were returned to the dealer and swapped out for VLs but we all know how the history of the knucklehead played out.
I'm glad Harley, once satisfied the OHV was going to carry their future, curtailed manufacture of the VLs as this has only served to make them more rare today. For some reason the shop manuals etc for the VL years have been lost which would have been great to have. NOS parts are rare as hell, OEM are drying up and even some first class replicated pieces are getting hard to have. This all adds to the allure and the valuation especially if your desire is to create at high point restored VL. Forget about the total loss oil system BS. This is how they were made and enjoyed for many many years and managed tens of thousands of service miles. All part of the history, all part of the fun, all part of why these machines will be an excellent investment. There were only about 44,500 ever made. A drop in the modern day Harley output today of over 25,000 +/- per month. Of the VLs manufactured I would hazard a guess that only 2 – 4% are in any form of restored bike and of that, a fraction restored to a showroom, high point level.
No serious Harley collection can be without a representative of these important historic years. The most collectible in my opinion is the 36 VLH for continuing upward value but any of the VLs are worth having.