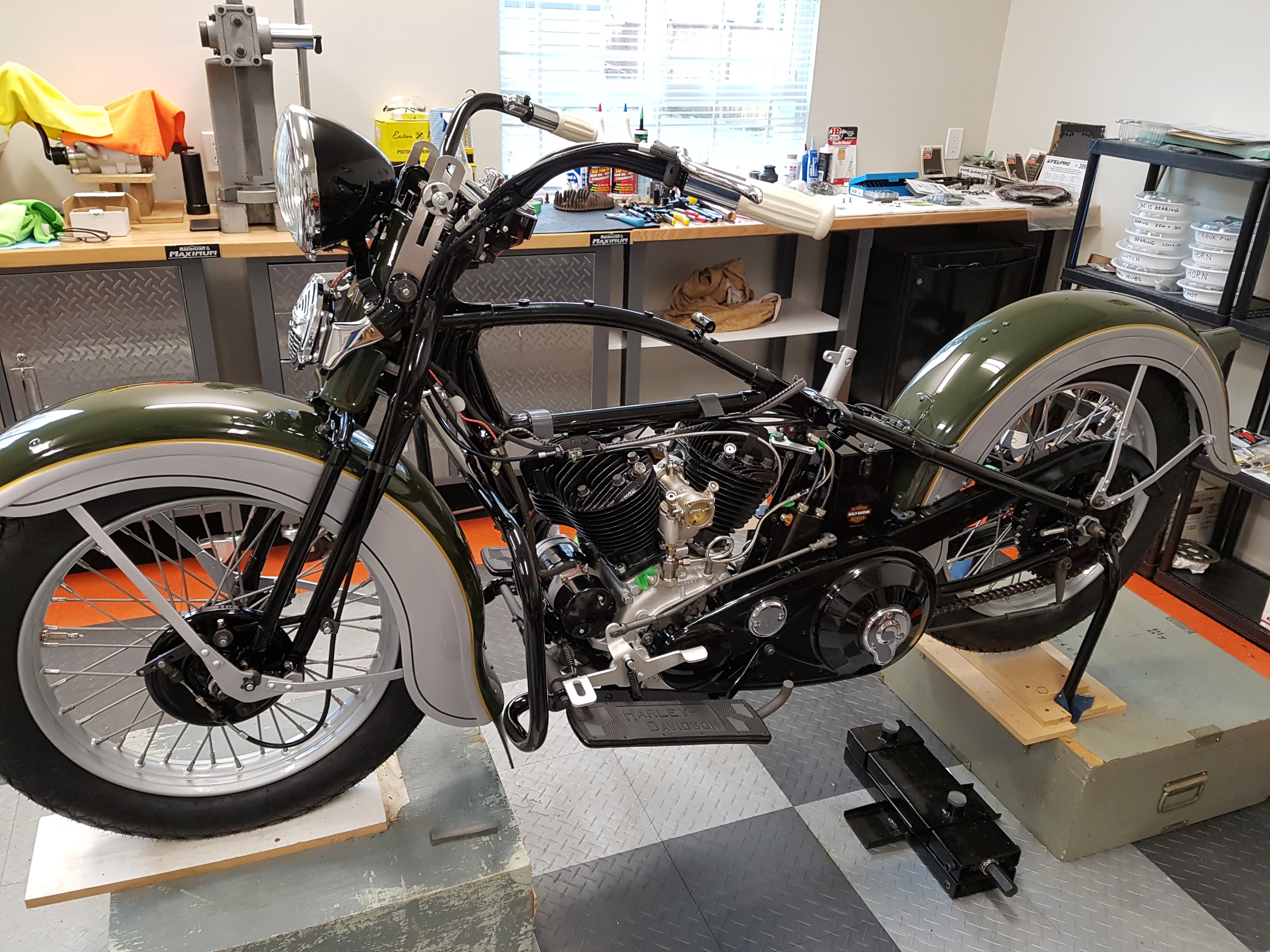 View Higher Resolution Photos Here
Chapter Three (one & two below)
Why a VL?
More to the point why invest in and / or restore a VL series Harley Davidson? I'm glad you asked for my humble and somewhat biased opinion. Setting aside all the great reasons to have and ride an old bike I wish to address this from and investor / restorer point of view. To me the VL years are some of the most important years in Harley history. First off the VLs were within the years that the original 4 founders were at the plant everyday. They oversaw these bikes and William Harley's engineering are all over these machines. I feel that is important. Next the VL manufactured 1930 to 1936 inclusive were made and marketed right through the great depression years. I believe that these machines which sold 6 to 4 over the 45s were instrumental in carrying Harley Davidson through those dreadful years. Not withstanding the fiscal abilities and ingenious marketing of HD, it was these VLs that captured enough imagination of living the motorcycling lifestyle, the allure of the freedom, status and pure desire to have and own to cause a buyer to lay down what could have been a quarter to a years income for a bike when job security was nil and keeping a roof over your head and food on the table was enough to think about. When a basic Ford that held 6 people sold for less in some of the VL years, these bikes still sold. Why? they were a Harley!, they have incredible masculine lines, that big Vtwin, those 19″ wheels, low, lean, mean looking bike and enough brave new paint schemes to suit any taste. They are nimble, fast, rugged and think about it a 74″ was 1200cc motorcycle in the thirties and the 80″ was 1310cc! You can just imagine that young guy (or girl) standing on the wood floor showroom, eyeing the beautiful 45s then easing over the the bigger VL and just grinning ear to ear calculating the down payment and what weekly payments might be.
Think about this too. The ever iconic knucklehead came out in 36 with great hopes for the future pinned to the new OHV technology. But Harley were not about to step off the edge of a cliff and were smart enough to keep and market their proven flatheads just in case. The 36 VLH was marketed to come with an array of accessories included in the price. Jiffy stand, ride control, steering damper, stop light switch, front crash guard and the unicorn, the Corbin speedometer with the top speed recording needle. To my knowledge the first time Harley had done this another ingenious effort in marketing. Some 36 EL were returned to the dealer and swapped out for VLs but we all know how the history of the knucklehead played out.
I'm glad Harley, once satisfied the OHV was going to carry their future, curtailed manufacture of the VLs as this has only served to make them more rare today. For some reason the shop manuals etc for the VL years have been lost which would have been great to have. NOS parts are rare as hell, OEM are drying up and even some first class replicated pieces are getting hard to have. This all adds to the allure and the valuation especially if your desire is to create at high point restored VL. Forget about the total loss oil system BS. This is how they were made and enjoyed for many many years and managed tens of thousands of service miles. All part of the history, all part of the fun, all part of why these machines will be an excellent investment. There were only about 44,500 ever made. A drop in the modern day Harley output today of over 25,000 +/- per month. Of the VLs manufactured I would hazard a guess that only 2 – 4% are in any form of restored bike and of that a fraction restored to a showroom, high point level.
No serious Harley collection can be without a representative of these important historic years. The most collectible in my opinion is the 36 VLH for continuing upward value but any of the VLs are worth having. I personally feel 1930 was an amazing looking year and also historically significant.
In the next few chapters I will try and share some ever expensively obtained tips and info if you care to give one a go. The desire being to steer you away from some of my ever expensively corrected errors and on to some victories instead. I will encourage you with this; the VL community are some of the nicest, most knowledgeable enthusiasts you'll ever meet. I have never met or talked to a single sole that wasn't totally forthcoming with tips, contacts, vendors etc. and I make it a point to share what I've learned as generously. You'll need to become part of this network. You'll need at a minimum the latest version of Steve Slocombe's book found at VL Heaven.com Those of us that love VLs owe Steve a great deal of thanks for his work and study of the VL series of Harleys. An excellent guy to know and talk to. Equally important is to buy Steve's VL parts price list. This is an invaluable tool. You'll spend a lot of time in this. Not for prices as most of it is not available anymore but for a quick reference by part number that the piece you're after is correct for your year VL etc.  After those if you want some excellent cross reference material that can be extrapolated to VL but not necessarily specific to VLs is Johnny Sells book on 45s and Steve Palmers books on big twins etc. Steve Slocombe's book also lists an extensive selection of reference material. You'll need a owner handbook (being reproduced) and there is a new book out that captures all VL shop dope in order. You might have to reach out to Tom Feezer at Replicant Metals to find that. Tom is another must know guy and a excellent vendor. Rat at Harbor Vintage is also another must know and deal with vendor. Another for hardware is Tom's NOS, a superb website for ordering as it always has the original part numbers and pictures plus multiple finishes. There you go, a few of the very best you now know. You're ahead by a mile over me when I started.
Now to figure out how to get all the pictures on Flicker again.
Chapter Two (one is below)
On the off chance anyone will ever read this I extend the story of the 36 VLH endeavor. Much has happened with the project and with this restorer. Someone put the seed in my mind that after all this effort you cant do just one! So I started three more. I have to agree this was a good idea as the benefits of all the study one must do really pay off on the next projects. The 36 is almost completed and I am very happy with the fit and finish to date and the mechanical operation of the wheels, brakes, motor, trans and drive train etc. I truly enjoy getting into the measuring, clearances, end floats etc. The thing I found very helpful is to remind myself that these fine bikes were assembled by hand and by the dozens and dozens per day. So by reverse engineering the assembly and reminding myself that no one needed more than a few minutes or seconds to get through a certain assembly, I slow down and consider that until the order of sequence reveals itself.
The first tip I could ever offer is to come to peace with that fact that nothing fits like a greased banana or drops perfectly into place. If it does (and very occasionally it does) its reason to go quickly to the beer fridge and have a mini celebration. In my experience your case of beer consumed this way will last a long long time. Nothing fits! not NOS, not OEM, hell pieces you just took off from the original assembly don't go back on without a this or that. No point in giving up and buying a new one if you can get it, they don't fit either! Armed with that info life gets more peaceful as you gather more and more tools and apparatus for the necessary chasing, filing, blending, molding and massaging that damn near every single assembly requires. No beating, no pounding or you will be singing the blues. No working around and over fine finishes without protecting them or you will be singing some more. Be very slow to use the red locktite, to final tighten certain nuts, screws etc and be very slow to put the lock washers on anything painted until its really truly the last time. Good to keep notes on anything not final tightened and check them off so you don't wake up at night and take the started cover off the transmission you just finished to see if you tightened the counter shaft nut! Eh, hem, who would do something like that?
I have a ton more to share and will be back soon with lots more pictures.
Chapter One
For any of you that have taken on a full end to end, top to bottom nut and bolt point bike restoration of any motorcycle, you may get some enjoyment out of reading this. I don't feel I've made it into the secret brotherhood of restorers by any means but have I waded into the waters? Oh yeah. Did I know anything about a VLH beforehand? Nothing. Do I know a little now? Shall I recite the parts list backwards or forwards?
My VL experience starts like many others. A friend had it on the bench, dismantled and lost interest. I thought it would be great to take over and finish where he left off. So I proceeded to pay way too much for the project, shipped it across the country, opened it up, spread it out and then bought and read Steve Slocombe's book. Note to reader: this is not the suggested order.
And so began a multi month dismantle, investigation, discovery and disappointment as I worked through every single piece, screw, nut, washer etc. The majority of my discoveries lead to disappointment in that the part, if present at all, was rarely true VLH. Most moments of true discovery leading to disappointment started with wide eyed and semi silent curses. Then they progressed into wild combative flailing and more recently I just laugh but all were hastily diluted with copious amounts of wine, beer, shine, solvent – anything handy to numb the pain. Yes, I'm kidding. I would never waste good solvent. Suffice to say I have a lot of great parts to sell on EBay one day that are for other VL's.
I have no one to blame but myself for deciding early on that I was going for a correctly restored (cosmetically and mechanically) points bike. I was warned I'd need plenty of patience and money. I have developed the former and have a great deal less of the latter. The other character trait perhaps not to have is anal perfectionism. I have that in a bad way.
Stay tuned, I will update as I go. No more whining I promise. Wine, yes.
Truth be told I'm having a blast, talking to the best in the VL world, meeting amazingly talented experts who will and have left their mark on this restoration and enjoying the small victories as they come.